Grab consumers, and they'll grab you. Mass-market brands in categories such as toothpaste and gum routinely utilize holographic packaging for shelf impact because it has proven to boost both sales and market share.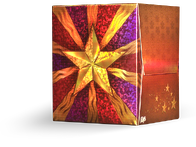 Not just for gum—holography is highly versatile, from glitzy and glamorous to subtle and sophisticated, with a wider range of evocative possibilities than traditionally thought. While grab-and-go products often use stock diffraction patterns to gain shelf-pop advantage in oversaturated retail environments, certain high-end markets like fragrances and spirits use holography in unexpected and subtle ways to express elegance and luxury, and technology and gaming markets use custom holography for a solidly innovative brand position. Savvy brand managers recognize the influence of custom holography in successful product launches and holiday editions also.

Custom-registered holography is also a fine treatment for sustainable packaging—available for alternative metallic substrates such as ITW Foils "Eco-Shine™" transfer-metallized substrate.

"Custom origination" is the creation of these one-of-a-kind holographic treatments. The process involves an active collaboration between designers and holography engineers to create original holography that registers to printing. This unique treatment delivers excellent brand value with more differentiating power than stock diffraction patterns. The proofing process, which I'll describe more next time, removes guesswork and increases client satisfaction with more predictable results.
Originations can combine pattern, image, and branding elements. They can be overprinted with inks and/or coatings to produce unique and striking combinations. Added to branding potential is the possibility of including anticounterfeit and security features to packaging. While there are infinite design possibilities that employ different holography characteristics, there are two basic types of originations. Custom diffraction patterns are repeats that can include logos, security images, or any decorative surface motif or effect. Custom-registered holographic images are designed to register to and enhance an overprinting layer, imbuing it with striking and impactful dimensionality and a unified look.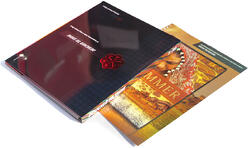 Stay tuned for Part 2 where I describe the fun and exciting process of holographic origination. Meanwhile, check out our webinar, "Custom Holography Simplified": Brilliant New Possibilities for Designers, Brands and Printers where you'll learn to incorporate custom holographic images and patterns into print, label, display and packaging to improve shelf impact, positioning, authenticity and security. Design, brand and technical experts will demonstrate the origination process including concept, file prep, proofing and delivery with actual packaging examples, diagrams and video. Market-specific applications will be discussed with a review of customizable materials: hot foils, cold foils, laminate substrates, and transfer metallized substrates. Benefits to designers, brand-owners and printers will be addressed:
Affordable and fast design-to-production process
Accurate proofing for brand consistency and predictably stunning results
Proven success in market introductions
***
By Christine Takacs on behalf of ITW Foils: a global leader in the manufacturing and distribution of technically superior foils, films and laminates. Their parent company is Illinois Tool Works, based in Chicago, Illinois. Through 850 decentralized businesses and operations spanning more than 50 countries, the ITW companies to provide a "Total Systems Approach" to their customers' decorating needs. ITW Foils is a partner who understands the needs of designers and brand owners, presenting them with the resources and tools they need for Making Brands ShineSM.