In the previous article, we covered the broad range of creative packaging design possiblities with custom holography. In this post, I'd like to demystify the process with a brief walk-through.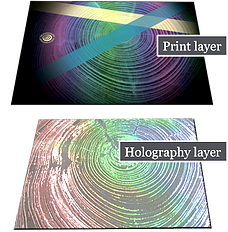 To start off, let's define "custom origination". It is the creation of a unique holographic treatment, typically incorporated into print, label, display or packaging. In this case, we are referring to a custom registered origination in which the light-refracting surface of a metallized paperboard is designed to correlate specifically to printed artwork. Note that holography can register to the entire print layer or can be used selectively to enhance areas of an image.
Here are the basic steps involved:
Concept or Brief to Lab:
At this first stage, a brief description of project is provided to the origination lab along with any associated files and existing packaging if relevant. The design experts will review to assess current packaging and requirements that customers have for end product.
Consultation:
Meeting to define project objectives is followed by a collaborative design process between ITW Foils' holographics lab and the client/designer.
Holographic Concepts:
The ITW Foils' origination team will provide a relatively quick method of visualizing various holographic concepts. A PDF overlay includes layers that can be turned on and off, indicating how holographic substrate, opaque whites and overprinting will interact. A virtual animated proof diplays the packaging rotating in space to demonstrate the light refracting qualities of the origination.
Proofing:


Once a holography concept is approved, accurate proofing is essential for brand consistency and predictable results. So f

or designers, one of the most essential attributes of ITW Foils' origination process is the ability to see realistic holographic proofs with overlays of printing and opaque whites. These overlays are also valuable for focus-group testing concepts.

Customer approval, overprint art to printer
Once the hlographic concepts are approved, the overprint art, along with opaque white layer (if necessary) is typically sent to the printer.
Origination lab works with print vendor
ITW Foils' origination lab will work with the print vendor from this point on to ensure they have the holographic substrate with the layout they need to produce optimal results. After that, the holographic shim is manufactured and the substrate is delivered to the printer.
Plate, Print and Convert
To ensure optimal registration results, some printers double check press layout against substrate for proper match before heading to press.
Did you know? Most metallized materials are capable of custom holographic finishes. Hot foils, cold foils, ReadyPrint™ foil laminate substrates, and EcoShine™ transfer metallized substrates are all available in diffraction patterns and custom holographic options.
Brands can now incorporate holography into product packaging quickly and cost effectively. ITW Foils offers a patented technology, iScan™, that eliminates the time and expense constraints associated with traditional dot matrix holographic methods, offering large hologram formats that can be embossed onto film, paper and board.
Benefits to printers and designers include:
fast and accurate proofing which offers greater value, customer satisfaction and market opportunities
Ease of sourcing; ITW's origination technologies coupled with our film embossing and paper/paperboard lamination capability provides a one-stop solution for all of your holographic needs
Long popular in the packaging industry for a wide variety of flexible packaging and labels, the applications for holography are becoming more diversified than ever as familiarity increases. Whether as stock diffraction patterns, smooth rainbow, or custom holography with embedded security features, holography is growing in popularity for its flexibility, function, and appeal. With premium printability and substrates that remain true to register, ITW Foils is the ideal partner to help your brand shine with custom-registered holography.