Wall calendars are a standard year-end promotional strategy for companies that sell substrates. Designing a calendar that will command precious wall real estate is the challenge. For 2013, I had the task of creating a calendar for ITW Foils to showcase their innovative custom holography capabilities, and would like to share that process.
Custom Holography: Concept Stage
Our design team knew we wanted a natural theme because the calendar would be printed on ITW Foils' recyclable metallic substrate—EcoShine™. With ITW Foils' holographic origination team, we developed a number of hologram concepts. Some concepts were subtle with heavy white coverage in varying opacities. Some utilized a largely non-diffracting surface area, with select areas of holography. The versatility of surface options in holography offers an endless range of decorative effects.
Here is one concept's holographic proof with opaque white and print overlay:

Final Design Process
The design ultimately chosen allowed the holographic substrate to do most of the heavy lifting in terms of impact. We used an image of a tree frog and created three main layers in Photoshop, as follows: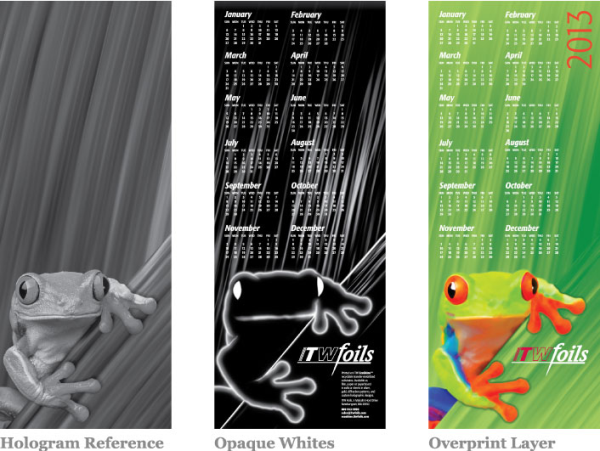 Hologram Reference

The bottom layer of the image file was the hologram reference. We decided to pull all the fine detail from the frog image into this layer because we really wanted to showcase the substrate and the impact of the hologram.


Opaque Whites




The middle layer was the opaque whites which would ultimately be applied underneath the color inks on press. These can be used minimally and selectively, for more transparency. Conversely, they can be applied with heavy coverage and multiple hits on press for opacity which blocks out the reflective surface. In this case, we used whites lightly—primarily as the backdrop for legible type in the calendar dates, as well as behind the logo to maintain strict brand color. We also used striations of white in various opacities in the background to add variety to the highly reflective surface.

Overprint Layer

Bright, saturated colors and PMS colors can provide a sumptuous effect on holographic surfaces. For the top layer, the color ink layer, we manipulated the image to remove all of its fine detail and to simplify the form into highly saturated fields of pure color. This design strategy allowed the printing to complement the detailed holography without any interference or muddiness.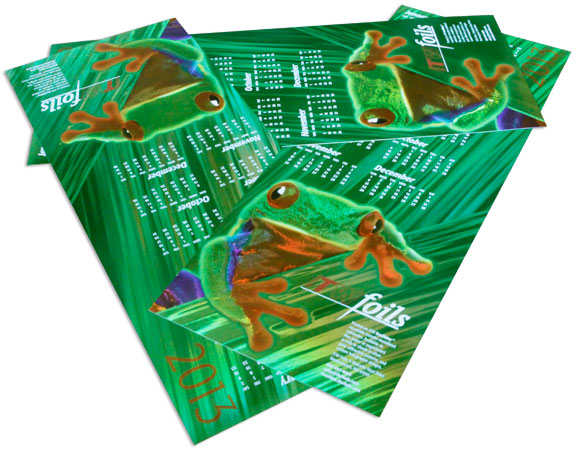 Here is a group of finished calendars.
No Guesswork with ITW Foils' Proofing Process
ITW Foils' holographic origination and proofing system made this process smooth and fun. Holographic proofs with color overlays and opaque whites gave our design team and the client an accurate depiction of the final product, eliminating any guesswork. In less than two-weeks' time we were able to land on the final design and begin the production process.
ITW Foils' holographic origination experts work with brands to strategize design solutions that will maximize shelf-impact while also maintaining brand integrity. Find out how ITW Foils can help your brand shine.